Daryl Fedje was feeling his age, kneeling in a waterlogged pit, trowel in hand, mud everywhere, water pooling a dirty brown in the low spots. It was a cold, gray April morning on the central British Columbia coast, with rain lashing the overhead tarp, and Fedje, an archaeologist at the Hakai Institute and the University of Victoria, and one of Canada's leading researchers on the early human history of the Americas, was dueling with doubt. Still lanky at 62, with gray hair curling out from his ball cap, he wondered yet again if he was wasting time and hard-to-find money chasing a figment of his imagination.
Fedje had been thinking about EjTa4, and what he'd seen there, for almost a year. Situated on remote Calvert Island, the site sprawled for nearly 150 meters along the shore, its massive, vegetation-shrouded midden looming over the water and its long abandoned garden nestling at the base. The immense midden, comprised of shells and other refuse, hinted at an ancient occupation. So a year ago, Fedje and his close friend Duncan McLaren, a fellow Hakai Institute and University of Victoria archaeologist, decided to search for the site's earliest layer, digging a small test pit below the tideline. They hoped to find a few stone tools or butchered bones. But when Fedje got to the bottom of the pit, he saw something strange: a black impression in gray clay. It looked like a human footprint.
Please see the rest of the excellent article by Heather Pringle, Hakai Magazine Contributing Editor:Â  Time Travelers–possibly 13,000+ year old footprints by a hearth in Central B.C. Canada
Also see the outstanding video, including drone shoots over the excavations:Â  A STEP BACK IN TIME from Hakai Magazine on Vimeo
NewsWARP America Coordinator, Dale Croes, and Japanese Colleagues joined Duncan and Daryl's crew on a different wet site project on Triquet Island, B.C. following this great discovery.  We found a number of wood and fiber artifacts, dating as early as 7,000+ years old, and we will announce this in future reports in NewsWARP.  An earlier report at this wet site can be found in NewsWARP at:  Hakai Ancient Landscape, Central British Columbia Coast, Canada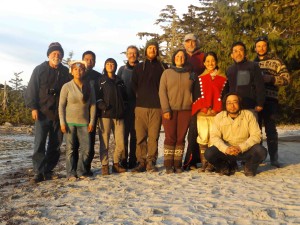 May 2015 field work exchange on Triquet Island in Central B.C. Canada with Bella Bella First Nations;  Dale Croes left, and wet sites crew from Japan:  Akira Matsui's Assistant and representative, Rika Shinkai wearing Kwakiutl button blanket and Drs. Naoto Yamamoto and Tomonori Kanno; Hakai Project Directors and discoverers of human footprints on Calvert Island, Dr. Duncan McLaren on right and Daryl Fedje with baseball cap.