Archaeobotanist Dr. Welmoed Out, Moesgaard Museum, Department of Archaeological Science and Conservation and NewsWARP subscriber sent us two of her recent articles on the archaeobotany of a Dutch Neolithic wetland site:Â  Helelingen III:
2015Â  The best of both worlds:Â  Human impact and plant subsistence at the Middle and Late Neolithic semi-agricultural site of Hekelingen III (2900-2500 BC) (Out with Walter Dorfler, Germany) (Click Here)
and
2016  Wood usage at Dutch Neolithic wetland sites  (Click Here)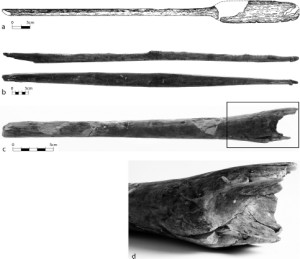 (A) Paddle, Acer sp.
(B)Â  Bow fragment, 2 views, Taxus sp.
(C & D) Haft and detail of shaft hole, Acer sp.
Image:Â  National Museum of Antiquities, Leiden, the Netherlands