Dr. Richard Daugherty, world recognized wetland site pioneer and the director of the Ozette Village wet site on the Northwest Coast of North America, was joined by his students from across the United States and Canada and Makah Indian Nation members to celebrate his 90th birthday, March 20th, 2012 in Olympia, Washington USA.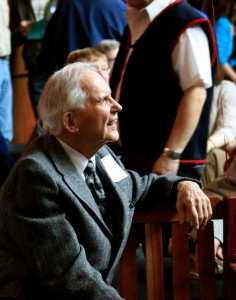 Photographs from the gathering and a YouTube video are presented here for those who could not attend.  Ruth Kirk Daugherty, his wife, worked with the organizing committee to be sure he was surprised.
Dr. Richard Daugherty is a pioneer in developing wet site archaeology through the recovery of several ancient Makah houses that had been caught under a mudslide approximately 300 years ago.  He initiated some of the first equal partnerships developed between Indian Tribes and archaeologists while working on Ozette wet site with the Makah Indian Nation.  At Washington State University he pioneered a multidisciplinary approach to archaeology in developing the Quaternary Program, involving a faculty of Anthropologists, Zoologists, Botanist, Soils Scientists and Geologist.  He was instrumental in spearheading much of the U.S. legislation of the past 50 years that protects and preserved cultural resources–working directly with legislatures and legislative committees.
Below are photographs highlighting Celebrating 90 years of Doc's Visions and the YouTube video of the celebration, the presentations and the Makah Tribal tribute:
click here for YouTube:  http://www.youtube.com/watch?v=qK6tROxgwiI