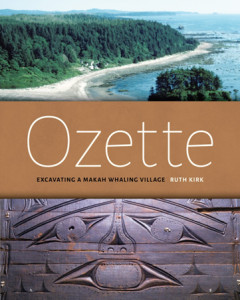 NEW BOOK:Â  Ozette: Excavating a Makah Whaling Village
By Ruth Kirk, Author
The first comprehensive book on the history and research at the Ozette Village site investigations is now released.  Author Ruth Kirk does an excellent job synthesizing all the details of the field work, discovery of preserved wet site houses under a mudslide, developing the fieldwork strategies and logistics for year-round operations and the considerable research accomplished concerning this massive Northwest Coast of North America wet site undertaking.  A must read to understand the work done on this major wet site.
Here are some of the comments about this book:
UW Press: Ruth Kirk was present, documenting the archaeological work from its beginning, and her firsthand knowledge of the people and efforts involved enrich her compelling story of discovery, fieldwork, and deepen our understanding of Makah cultural heritage.
Anything Ruth Kirk writes I will devoutly read, and to have her paired with the dramatic story of the Ozette dig is a decided pleasure. No writer is more qualified, nor more dedicated, to the telling of this enticing archeological tale. – Ivan Doig, author of Winter Brothers
Makahs worked with 'Doc' Daugherty and Ruth Kirk for more than 45 years and we have been greatly anticipating the completion this book. As Makahs, we know the beauty and strength of Ozette and now the rest of the world can too! – Janine Ledford, Executive Director, Makah Cultural and Research Center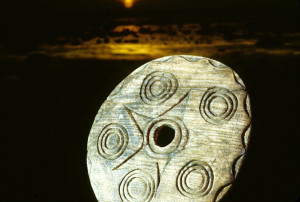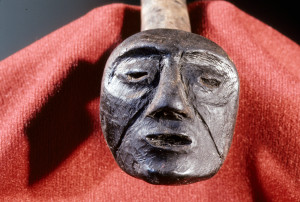 This book is an inspiration, just like 'Doc' Daugherty and his crew inspired us all at the Ozette Village site. We will never understand our future until we better understand the past and Ozette helps us do just that.
– Ralph Munro, Washington Secretary of State 1980-2001
Ozette: Excavating a Makah Whaling Village will be highly popular among both professionals in anthropology and members of the interested public. This truly is one of her best writings and a synthesis as only Ruth Kirk could write. – Dale R. Croes, Ph.D., Washington State University and Director of the Pacific Northwest Archaeological Society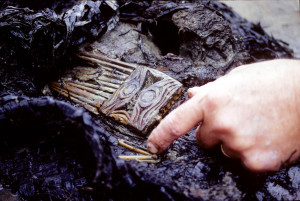 Google this title and obtain a copy through internet services.  Great to see this general synthesis of a major wet site undertaking.