by Mary-Lou E. Florian
Mary-Lou Florian,  Emerita Conservation Scientist, Royal British Columbia Museum, Victoria, B.C. Canada, has generous provided us a link to the chapter's of her important and well illustrated new contribution: her lifetime work on plant identification with a study of comparative anatomy and conservation concerns for wet/wetland site and ethnographic wood and fiber artifacts.
The book deals with the comparative anatomy of the tissues of the bark, phloem, heartwood, sapwood, and pith in wood, branches, and roots of woody shrubs, hardwood trees and softwood coniferous trees, that were reported to be used historically in making ethnographic and archaeological artifacts. The species researched in this book are endemic to Northwest Coast of North America. The species used in the following chapters have anatomical characteristics that are also common in other genera in the same family. Even though the book is on species in the NW Coast of Canada , the information is applicable to tree genera in similar latitudinal environments in Canada, USA, Europe and Asia.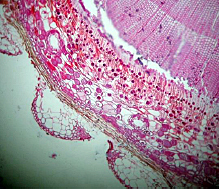 I am pleased we can almost immediately provide this new release to NewsWARP researchers throughout the world and make sure Mary-Lou's monumental work can be used to assist with plant identification and conservation work that is so important and fundamental to wet/wetland artifact research.
You can download chapters of the entire book at this web site:Â  Comparative Anatomy of Branches, Roots, and Wood….
Scroll down and click on menu "Download" to find all the chapters.